Global Acquirer Trends, H1 2023
Arrowpoint Advisory's Global Acquirer Trends data, first published in 2017, today shows marked uptick in overall deal volumes, with mergers and acquisitions (M&A) in the first half of 2023 nearly doubling when compared to the same period last year.
The shift in global deal appetite was significantly driven by dramatic growth in investment within Arrowpoint Advisory's 'Rest of World' category, predominantly made up of Africa and South America, but UK & Ireland and North America also saw solid uplifts in deal volumes year on year. North America saw a 16% growth in domestic deals and 15% growth in inward investment from other regions while the UK & Ireland saw inward investment up 12% and a big step up in internal market transactions (+45%), resulting in deal volumes in total rising almost 30%.
While various major investment programmes in the US, in particular the Inflation Reduction Act, will clearly have contributed to the attractiveness of North America, the reasons for the UK's strong performance are less clear. That said, the increased domestic political stability in light of the multiple leadership contests in 2022 will have removed a break on some investments.
APAC
On the contrary, the Global Acquirer Trends data shows that there has been a significant decline in outward investment to Asia. North America and the UK&I have drastically reduced their investment in the region, down 43% and 42% respectively against H1 of last year. This is the result of ongoing discussions between the US and China negatively affecting the quantity and value of deals taking place in the region as well as significant increases in regulatory and national security-driven barriers to transactions.
UK&I
Overall inbound investment and domestic investment in the UK were both up, and the most active inward investors and the most active sectors remained consistent year on year.
Sectors with the most activity were software (379 deals, +28%); other services (275 deals, +37%) and financial services (160 deals, +13%). UK manufacturing also saw a significant uplift in transaction volumes, albeit most of the uplift appears to be within the electronics market, where deal volumes trebled, perhaps driven by supply-chain related factors such as the influx in EV reliance and adaptations based on the restrictions imposed by COVID-19.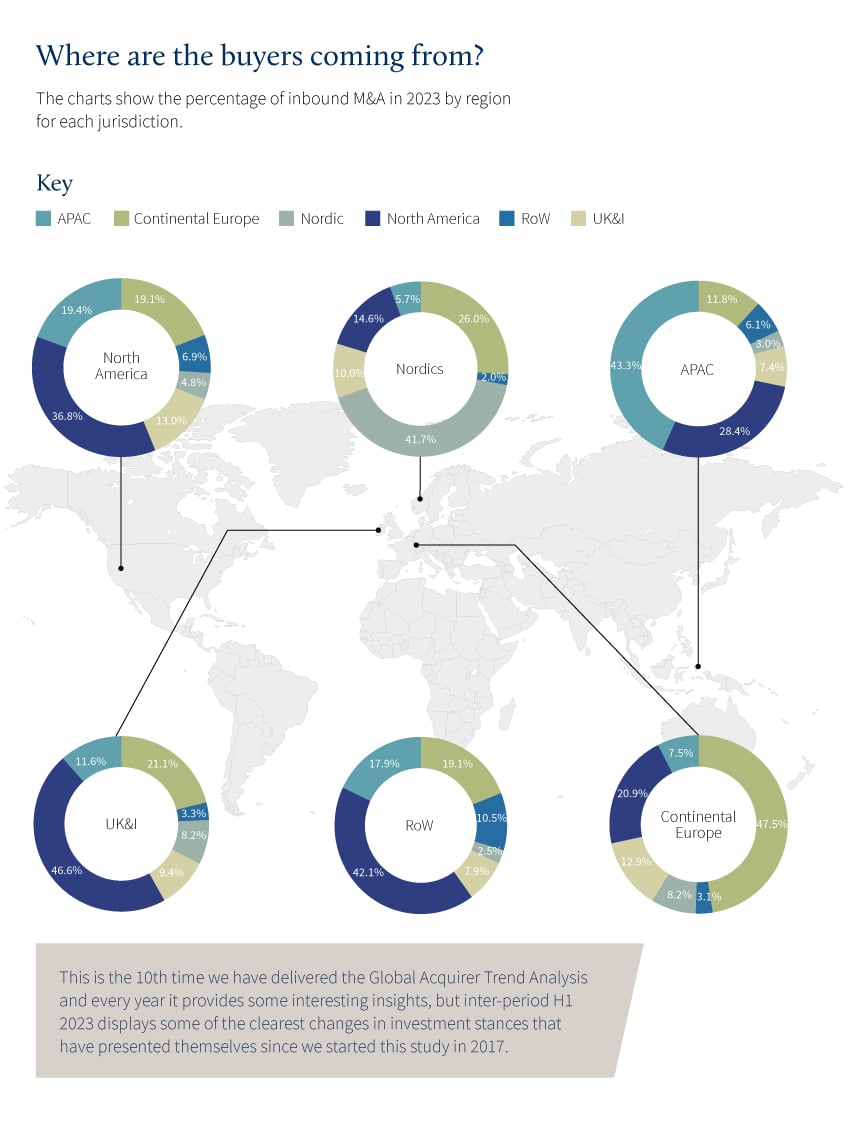 Graham Carberry at Arrowpoint Advisory, commented: "Every year, the Global Acquirer Trends data provides some interesting insights, but I would argue that H1 2023 displays some of the clearest changes in investment stances that have presented themselves since we started this study. The most profound trend in our data relates to the APAC region. This is a huge region economically and has consistently grown more and more important to international trade and economic influence, but it is dominated by China and there has been a significant drop off in external investment in the region, presumably down to the difficult geopolitical discussions between China and the US.
Once again the GAT data has proven its value in separating the investment reality from the sometimes unduly negative media noise, and there is reason for this to continue to into H2 with a positive ending to 2023 expected."
Click here to download your copy of the Arrowpoint Advisory Global Acquirer Trends Report, H1 2023.