Google, Facebook, and the independent agency opportunity
Why the rise of digital media is driving a renaissance of independent marketing agencies
As consumer adoption has enabled the leading digital media platforms to grow to mass scale over the past decade the relationship between media buyers and media owners has been fundamentally changed. This change has far-reaching implications for the traditional marketing agency business model.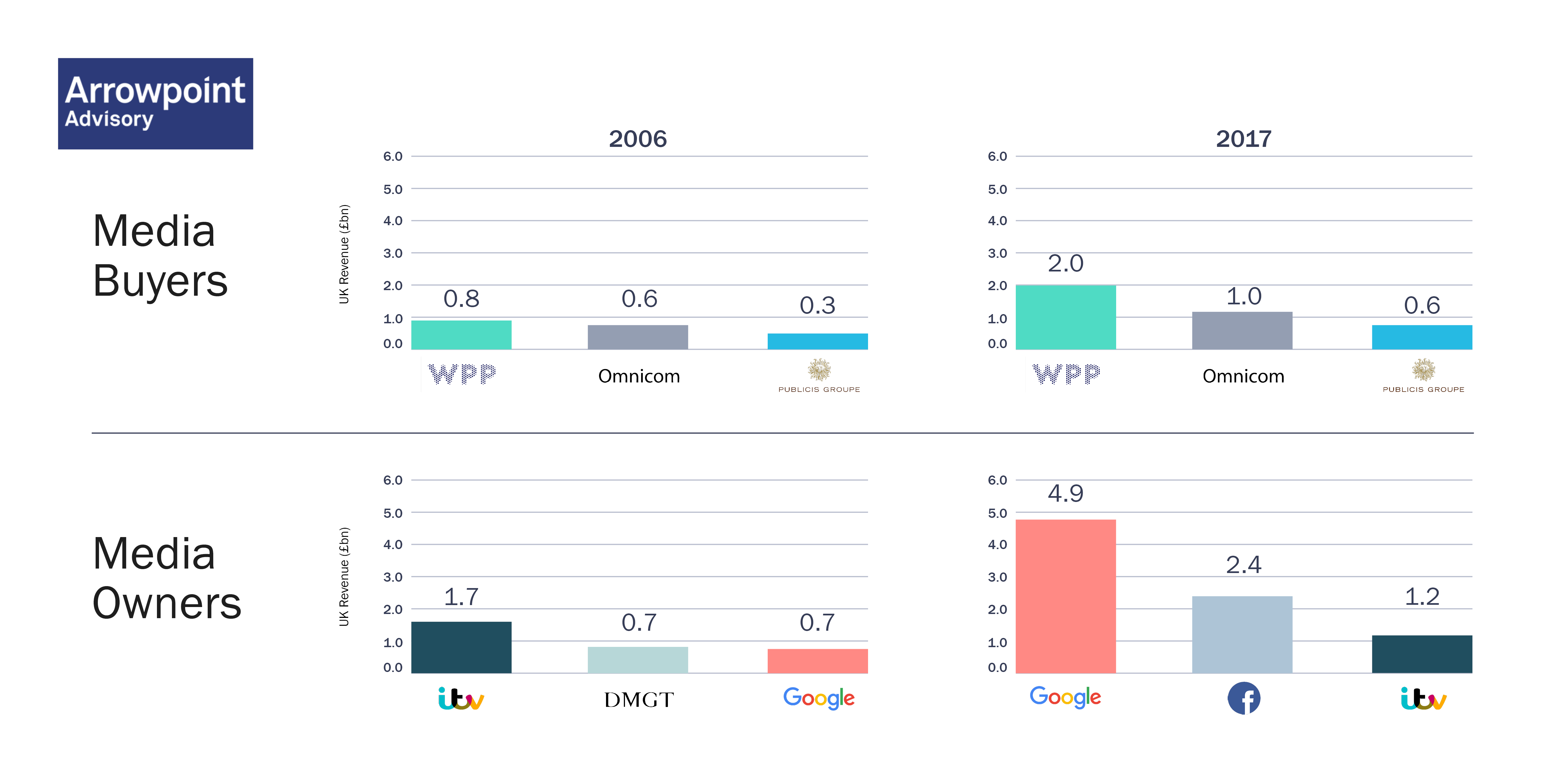 This shifting balance of power is graphically illustrated by the UK consumer advertising market. In 2006 the three largest media owners combined controlled 16% of supply, whilst the three largest agency groups together controlled 9% of demand. In this environment agency groups, especially the holding companies dealt with media owners of similar or lesser scale, and had significant pricing power in the advertising market.

Ten years later in 2017 the largest advertising platform, Google, has 21% of the market and the top three media owners together control 36% of supply. Whilst agency groups also grew over this period, their expansion was much slower; the three largest now control 16% of demand. In this new environment even the largest agency groups now deal with a relatively concentrated media market in which the biggest media owners have significantly greater bargaining power.
Strategically the greatest consequence of this changing balance of power is that agency groups can no longer rely on aggregating demand through M&A to deliver rising margins and profitable growth, because they will never be able to out-grow Google and Facebook. We see this changing media landscape as the primary cause of the significant strategic adjustments made by major holding company groups in recent years, as they look to simpler structures and deeper integration rather than scale to drive margin improvement and growth. Although buying power will remain valuable in traditional media its strategic importance has diminished, because the share of advertising spend in these channels continues to shrink.
As disruption of the media market has challenged the historical holding company model it has also driven a renaissance of independent marketing agencies, because for digital media inventory independents can now compete on a fairly level playing field against agencies within major holding company groups. A generation of talented marketing services entrepreneurs have capitalised on this structural opportunity to create nimble, fast-growing specialist agencies whose success would have been almost impossible a decade earlier.
The second order effect of this change in the competitive landscape has been to widen the exit options available to founders of successful independent agencies. When scale was critical to success it became almost an inevitability that agency founders would sell to a holding company group, and private equity investment in the sector was rare. As a result of the changing industry structure we are seeing an increasing appetite from private equity firms to invest in successful specialist agencies, providing founders with the option to stay independent and continue their growth journey whilst also realising value.
Reflecting this three mid-market private equity houses have recently made investments in UK marketing agencies: Livingbridge invested in Brain Labs Digital, an SEO specialist, Growth Capital Partners invested in Jones Knowles Ritchie, a creative brand agency, and LDC invested in Fishawack, a specialist medical communications agency. Given the strong and growing community of independent marketing agencies in the UK this is a trend we expect to continue.