Mental Health Awareness Week 2023 – Trends in M&A
Over the last few years, mental health has come to be recognised as a core element of holistic wellbeing, equally as important as physical health. Societal acceptance and a more understanding approach from health practitioners and employers has seen fewer people shying away from admitting when they need support. As a result, increased awareness has been driving demand for both quantity and quality of support across the healthcare system, and this has had a direct impact on M&A volumes in the sector.

In part, society has COVID-19 to thank for this shift in mindset, which thrust the importance of health and wellbeing into the spotlight. Another major contributor to this shift is generational. Gen Z in particular have much more progressive mindsets and are more open to communicating about mental health issues, with a 2018 US survey finding that Gen Z were nearly twice as likely to report their mental health as fair or poor compared with older generations. As Gen Z continues to enter the workforce, their influence on attitudes and removing the mental health stigma is likely to become even more material. This trend is accelerated by labour competition, which gives workers leverage to apply pressure on employers to improve support provided by their workplace.
Consequently, responsibility has shifted from purely governments and the NHS onto employers, and a number of platforms have been developed to address this challenge. A key player in the corporate wellbeing market is Unmind, a UK-based mental health platform which provides clinical assessments and training for employees. In May 2021 they closed a £33m Series B funding round led by EQT Ventures, and have subsequently acquired Frankie Health, a workplace wellbeing service provider, in February 2023. In the US, Calm, a subscription meditation app with an employer-focused offering 'Calm Health', raised $75m at a $2bn valuation in December 2020, and recently acquired Ripple Health Group to deepen its mental health offering.
Whilst attitudes and services are therefore moving in the right direction, the need for further mental health support is abundantly clear. Close to 15% of the world's working population is estimated to experience a mental disorder at any given time, and the World Health Organisation expects that US$1 trillion of economic output will be lost each year as a result, making mental health a critical issue not only on an individual level but for global economic development. In the UK alone, mental health problems cost the economy at least £117.9 billion every year through absenteeism and reduced productivity.

New market entrants and maturity in the approaches to treatment has had a tangible impact on M&A activity. Per global deal volume data from Mergermarket, only 15 deals were completed in the mental health and wellbeing sector in 2013, compared with 140+ in 2022, with this trend set to continue into 2023. The USA is the standout leader in overall deal volumes over the past decade, with the UK in second place. Both geographies experienced record levels of M&A in 2022.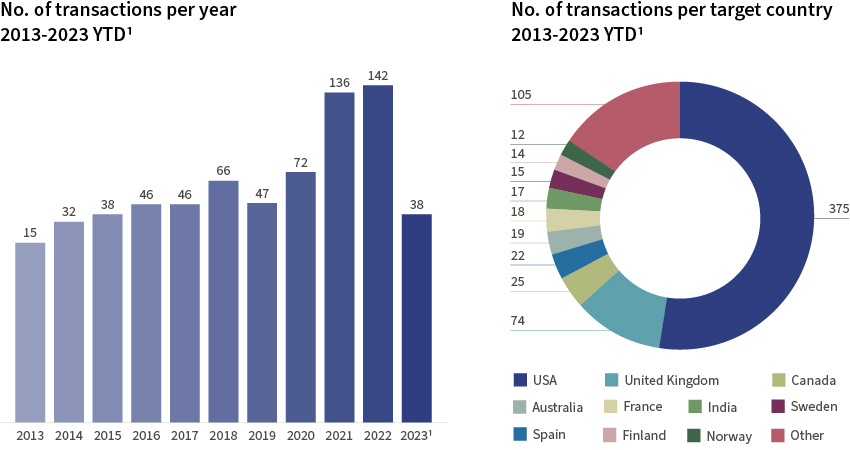 1. 24 April 2023
Source: Mergermarket, Arrowpoint Advisory Analysis
This can be partially attributed to the recent focus on ESG, as the positive impacts assets in the mental health sector provide enable investors to meet increasing requirements from their various stakeholders. Furthermore, today's investors can benefit from ESG-linked financing structures which incorporate features such as reduced interest rates based on meeting predetermined ESG targets (including mental health KPIs).
Additionally, service quality, reputation, ability to attract and retain talent, and tech-enablement continue to be key considerations for acquirers. The coveted B Corp certification is increasingly becoming a recognised indicator of high quality businesses with positive and attractive working cultures. Digitisation is also a key value differentiator, with tech-enabled platforms relieving some of the pressures on existing services, speeding up assessments and appointment allocations, and allowing more people to access support as societies become less reliant on more traditional pathways.
Two good examples of this, which Arrowpoint Advisory advised on, are:
Ascenti Health – a technology-led disruptor in the physiotherapy and mental wellbeing markets who we advised on its sale to bd-capital partners. There was high demand for its market-leading end-to-end technology which provides an effective patient and practitioner-facing solution to enable efficient and successful patient outcomes.
Onebright (previously CBT Clinics) – a leading provider of metal health services who we advised on its sale to EMK Capital. The business is prioritising investment into its digital capabilities which it is seamlessly combining with evidence-based therapies and its world-class clinical network.
As demonstrated by M&A activity, the heightened societal awareness of mental health since the start of the pandemic continues to drive strong investor interest globally. Given the relative nascency of the market, there are significant opportunities for consolidation into 2023 and beyond. This, coupled with increased pressure on governments and employers to ensure appropriate mental health resources and support are available, can only contribute positively to further improvements and efficacy in future treatment and management of what has become a not-so-silent pandemic in its own right.
Sources