You have taken the lead : Computer games thrive in difficult times
As the global public health crisis of COVID-19 has mounted, we have seen operational and financial disruption and uncertainty impacting valuation and liquidity in both public and private markets across almost every business model. Against this turbulent backdrop a small number of sectors whose characteristics insulate them to some extent from disruption to the physical world have markedly out-performed, relative to the precipitous overall decline in markets.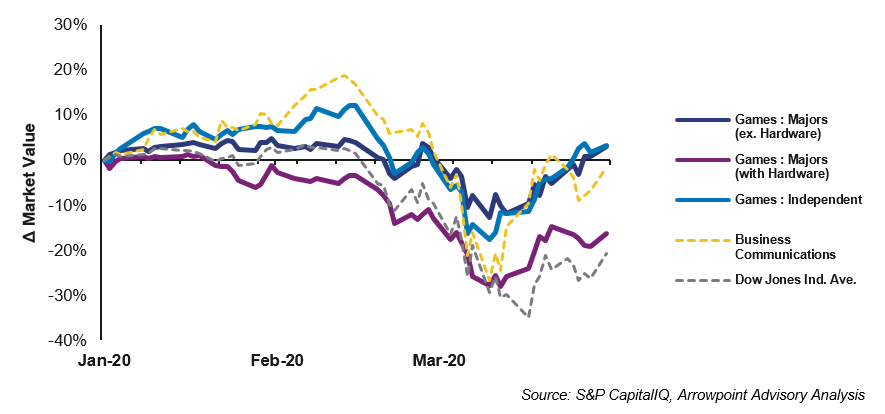 Communication has become the archetype of the resilience of an essential digital services to the pandemic because usage of video- and tele-conferencing tools has expanded rapidly to replace physical interaction as populations stay at home. Serving an equally powerful although less obvious basic human need for entertainment, the video games industry has also defied the market turbulence to emerge as one of the stand-out performers of the crisis thus far.

Reflecting the inherent attraction of digitally-delivered, infinitely scalable products that moves across physical borders largely unimpeded, the global games industry has out-performed the Dow Jones Industrial Average by an average of +10% since the start of 2020. Within the listed games community, the independent ('indie') developers and publishers have faired the best, actually out-performing the business communications sector by +4%.
The prominence given to the live-streamed eSports Abu Dhabi F1 broadcast recently, whilst not quite a substitute for the real thing, provided a unique opportunity to showcase the pervasive power and entertainment potential of online simulation sports games, both participating and spectating, to a mainstream audience.
Of course, the games industry is not entirely immune to disruption to the physical world, and despite this strong performance relative to equity markets certain segments of the industry have depreciated in absolute terms. Amongst the global majors of the games market, hardware sales and the new title releases that often accompany them are significant driver. It is clear that the effects of disruption to supply chains has had an effect on valuations in some cases, as major games operators with material hardware sales have lagged the overall sector by -19% over the period. Whether there could be similar impacts on the global digital supply chains that drive new releases of the largest 'AAA' games titles is not yet clear.
Due to the attractive fundamentals of the games market and the structural factors driving consolidation, we have seen considerable M&A activity across the market so far in 2020, with major players continuing to acquire high quality independent studios apace to secure content, access new genres, and acquire new consumers. Given the strong relative performance of the sector we see this trend continuing despite market dislocation, and expect computer games to be one of the bright spots in the M&A market for 2020.